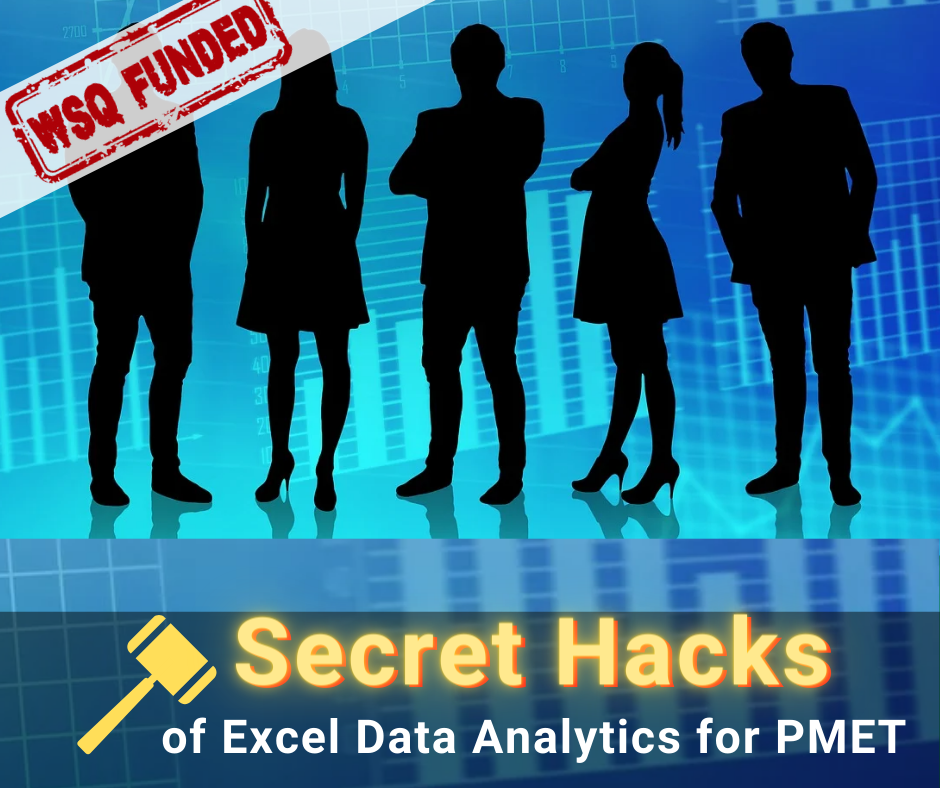 Secret Hacks of Excel Data Analytics for PMET
Secret Hacks of Excel Data Analytics for PMET

Who Should Attend
This course is designed for those who are currently working in
Sales, Marketing,
Supply Chain,
Finance,
HR and/or
running your own business.
An intermediate level of Excel skills is recommended. Some experience in Pivot Table is highly recommended.
Learning Objectives
Upon completion of the course, participants will be able to:
Use Excel for data analytics
Identify trends and patterns through data analytics
Interpret results using data analytics methods.
Share your analysis through data story telling
Course Outline
Discover what you could already know about Data Analytics
Analyze your data in a systematic way
Differentiate the 4 ways you can apply data analytics to your job
Discover how you can identify patterns and trends in Pivot Table
Learn the easier way to combine two worksheets without using VLOOKUP
How to automatically convert your data into useful reports with a one-time setup
Collating information from multiple files with this secret function in Excel
How to confidently analyze big data and appear like an expert
How to wow your audience with data storytelling
Program Dates
06-07 Mar 2023 (Thu and Fri)
15-16 May 2023 (Mon and Tue)
13-14 Jul 2023 (Thu and Fri)
07-08 Sep 2023 (Thu and Fri)
Mode of Delivery
Course Duration
2 days (8 hours each day) – 9 am to 6pm
Price
Course Fee before Training Grant: S$1000
Course Fee after Training Grant (SMEs): From S$300 per pax (Amount is before SFEC and absentee payroll)
Course Fees after Training Grant (Individual >= 40 yo): From $300 per pax (Amount is before SFC)
Course Fees after Training Grant (Individual <40yo): From $500 per pax (Amount is before SFC)
Funding available for this course:
SFEC/Absentee payroll/Course fee grant/ETSS/MCES/SFC/WSS Absentee payroll
________________________
If you need further clarifications, please send us a message using the form here and we will reply you ASAP.