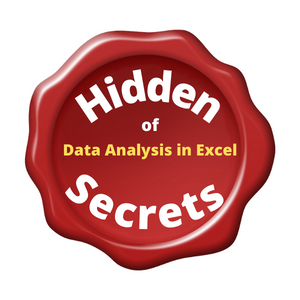 Hidden Secrets of Data Analysis in Excel
Hidden Secrets of Data Analysis in Excel

Who Should Attend
Managers and Executives who have to manage, analyse and prepare reports using raw data downloaded from systems. They must have some basic to intermediate knowledge of Excel i.e. navigate around a worksheet, format cells, auto-filter, sort, create a simple template and enter simple formulas (e.g. SUM) into the worksheet.
Learning Objectives
Upon completion of the course, participants will be able to:
Process raw data using Excel formulas and functions
Prepare and analyze professional-looking reports
Set up reports and charts that are easy to maintain
Course Outline
The course is designed to introduce the functions progressively (in terms of the level of difficulty) to the participants. Each of the 10 modules is built towards the final end goal of creating a dashboard for analysis and reporting.
Module 1 – From manual calculation to automation
Module 2 – Introduction to Pivot Table, the solution for instant analysis and reporting
Module 3 – Merging 2 data sources into one for Pivot Table
Module 4 – Grouping data to find patterns
Module 5 – Extract, clean and beautify descriptions for reporting
Module 6 – Master Dates and cut down 50% of your Excel reporting time
Module 7 – Create Pivot Charts and expand your choices of charts for your presentation and dashboard
Module 8 – Selecting cells with precision and speed
Module 9 – Intermediate upgrade of Pivot Table reports
Module 10 – Create multiple sources Pivot Table
Topics covered in the course
Data Processing
MONTH, YEAR, DAY, DATE, DATEDIF formula,
Absolute and relative reference
IF and NESTED IF
GOTO function
TEXT functions
VLOOKUP formula
Analysis and Reporting
PIVOT TABLE
Tables
Multiple Data Sources Pivot Table
Presenting with Pivot Charts
Special Bonus
The trainer provides free consultation during the course so that participants can get a head start and apply what they learned immediately to their jobs. Participants need to provide a copy of their sanitized raw data for this.
Program Dates
Face-to-Face Workshops
27-28 Feb 2023 (Mon and Tue)
13-14 Apr 2023 (Thu and Fri)
01-02 Jun 2023 (Thu and Fri)
02-03 Aug 2023 (Wed and Thu)
16-17 Oct 2023 (Mon and Tue)
Duration
2 days program (7 hours each day) – 9am to 5pm
Price
S$800 per pax
________________________
If you need further clarifications, please send us a message using the form here and we will reply you ASAP.